Never worry about what topic to write on ever again
Looking for blog topics? But the 'ol writer's block got you down? Let AI do the thinking for you. We've created ContentBot to give you an easy way to generate blog topic ideas on autopilot. So you can focus on what really matters - your business.
Easy as one, two, three!
Use our advanced AI to generate endless blog topic ideas.
1.
Input your topic
Describe your niche or blog, choose whether or not you'd like an intro, and click 'Generate Inspiration'.
2.
Our AI gets to work
We provide three fresh and interesting blog topics, complete with an introduction (if you selected the option). If you'd like some more topic ideas, fret not! Just click on 'generate more'.
3.
Select your favorites, tweak, and edit
Copy or save your favorites. Tweak the topics to match your voice and style. That's it, you're done! Now, wasn't that simple?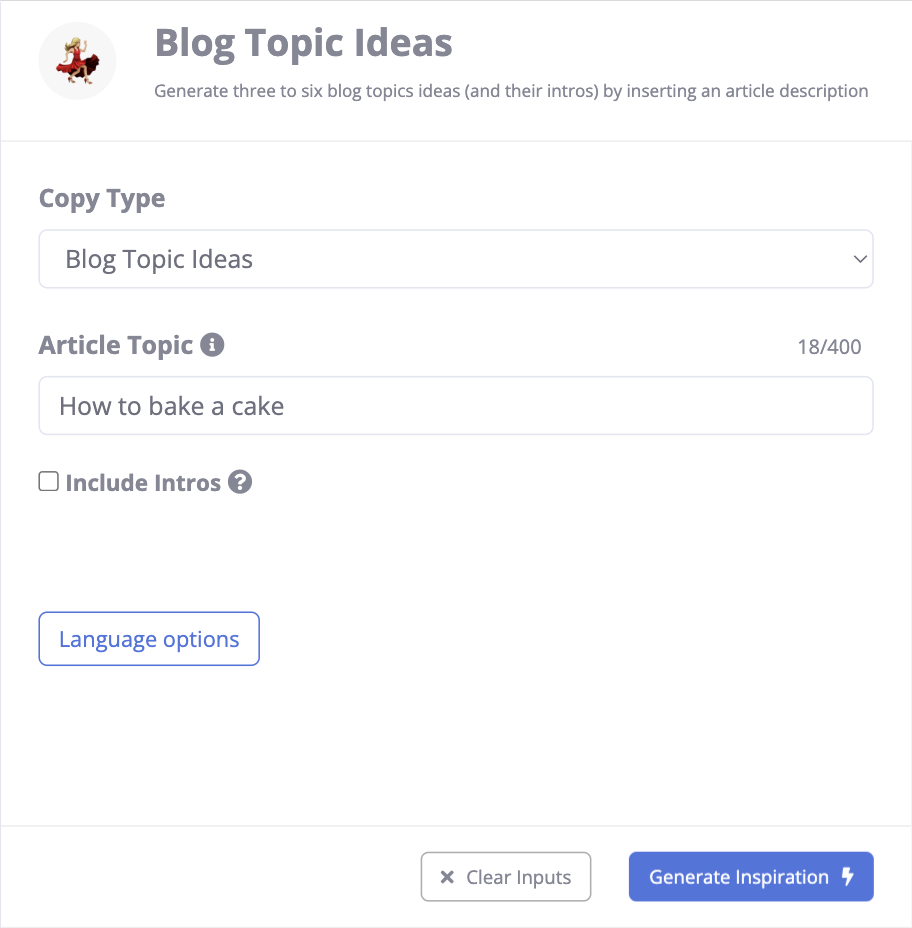 Brainstorm-less blogging
Generate a wide range of high-quality blog topic ideas that work for almost any niche. You'll always have fresh ideas at your fingertips to use at will — especially when down with writer's block!
So, sit back, relax, and let us do the heavy lifting.
Engaging intro with each topic
We know that when it comes to content, quality is key. That's why each blog topic we generate comes with a well-written introduction that will get your audience hooked right away.
All you gotta do is reel them in!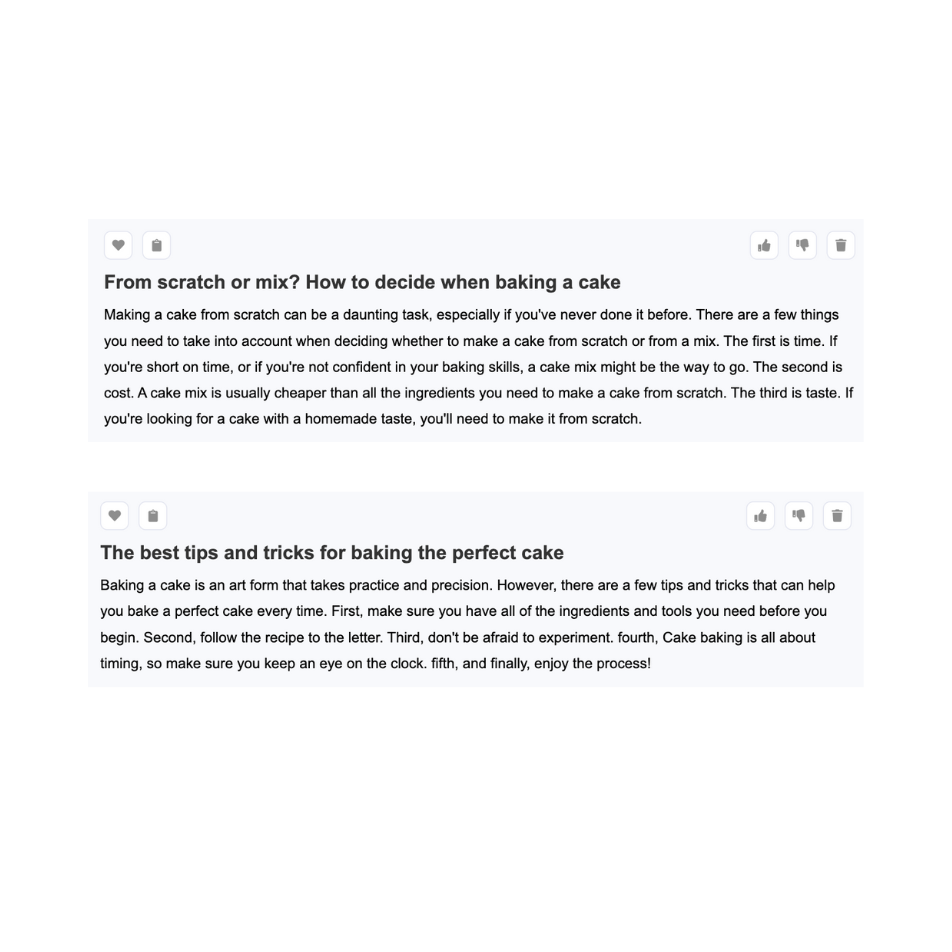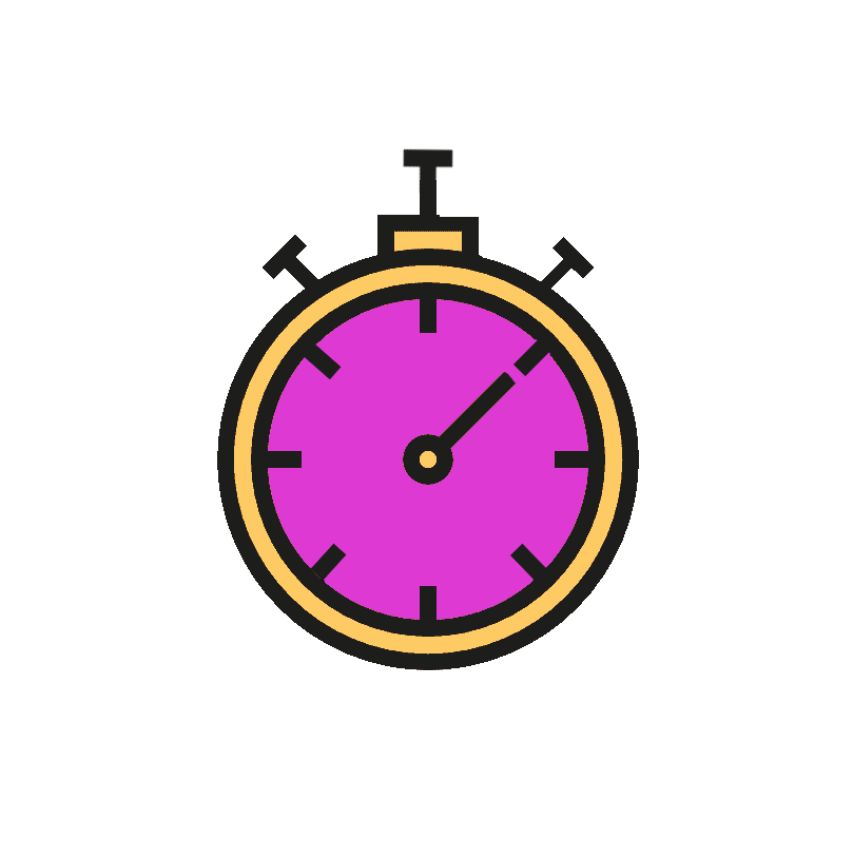 Faster Time to Market
Let our state-of-the-art AI get to work generating blog topics with the click of a button. And voila, your yearly content calendar can be ready within an hour or two!
Your content will hit the ground running from the get-go!
Frequently Asked Questions
Yes. 95% of the content generated by the AI is unique and original. We also provide a uniqueness score for longer form content generated so you can have peace of mind to know that the content you have received is unique.
We make use of a variety of AI models, with the main model being GPT-3 by OpenAI. GPT-3, or Generative Pre-trained Transformer 3 is an autoregressive language model which uses deep learning to produce human-like text. It's a game changer for content creators.
We will not claim copyright over content generated by the AI for you.
We currently support all languages supported by Google Translate. We understand that although Google Translate may not be the best translation for your needs, we are currently exploring other options such as IBM Watson and OpenAI to provide better, or multiple translations at once.
$59/month. You can take the product for a spin for seven days for $7.
Yes. Please get in touch with us below.